Woohoo, your sites are ready to be upgraded to Flywheel's new Cloud Platform! To ensure a smooth transition, in this article we'll look over how to prepare your site(s) for the upgrade, how the upgrade itself works, and how to get help if there are any snags.
Pre Upgrade
To kick things off, we first ask that you have access to all DNS records for the domains on the sites in your subscription.
Once the upgrade process is started you will receive an email confirmation, and will also gain access to the Upgrade Center in your dashboard. Here, you'll be able to view the new Cloud IPs for each site, and track progress throughout the upgrade.
Please note, if sites are in a bulk plan, the IPs may differ slightly from site to site rather than share the same IP. We recommend copy/pasting the IP for each site from the Flywheel dashboard to ensure DNS is updated with the correct IP.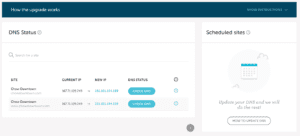 We ask that you point ALL DNS records for your plan within 30 days. This nifty guide will help you along the way: Preparing DNS for your Flywheel Cloud Upgrade
The Upgrade
After you've pointed domains to the new IP address, we'll take care of the rest! Sites will be assigned a specific time a few days in the future to finalize the upgrade. You can view the date of the upgrade in the Upgrade Center.
Sites will be upgraded to the Cloud during off-hours of your server location. You can reference the specific upgrade window at any time on the Overview tab of your Flywheel dashboard from the Domains card.
The actual upgrade will take about 5 minutes, and sites will automatically go into maintenance mode – all content is locked during this short period of time.
Upgrade Complete
When the upgrade is complete, your sites will be live on Flywheel Cloud! To confirm the upgrade is complete, a Cloud logo next to the site name(s) in your dashboard will be displayed.
If you have any questions once the upgrade is complete, please check our Cloud Upgrade FAQ, or check in with our Support Team.
WARNING: One thing to keep in mind is your sites are moving to a completely new platform and infrastructure, which may necessitate some manual interaction with your sites post-upgrade. For example, you may want to clear the cache for any caching plugins enabled on the site.
If you notice any other performance issues or out-of-the-ordinary behavior, our team is ready to take a closer look to ensure sites are as performant as possible. If this comes up, please contact our Support team.
*From: https://getflywheel.com/wordpress-support/cloud-upgrade-process